Leads, Leads & More Leads
Leads, Leads & More Leads
Flipping a campaign upside down, re-allocating the budget, and even changing the digital destination (think content) is a risk when it comes to ad dollars and ROI. It's especially a risk when a client relies heavily on lead generation from paid media AND has seen historical success in their approach. That said, you can't get better unless you analyze the numbers.
In this case, we went big on two channels, repositioned the brand with premium placement, and cut the ad spend on social and Google completely for the month. This move actually lowered overall ad spend for the month and grew January YOY leads by 52%. Not only did leads increase but so did sales, improving by more than 50k for the month.
We analyzed the channels click volume and lead completions for traditional postings verse premium postings, and learned that premium positions get roughly 30% more clicks and subsequent leads. Premium positions land you on page one, while traditional positions on page two or three. We enhanced our content with strategic keywords, better copy, and dynamic creative.
Additionally, we completely changed the content strategy on the websites - focused on lead generation. This is a nice way of saying, we had strategic CTA's and form strategies, dynamic content (e.g., testimonials and graphics), and a network of partner linking relationships in place that proved to be huge.
Because we know the conversion rate for the business on the leads from these specific channels, the added expense in those channels verse casting a wider net made sense to us.
The risk paid off. Below is a screenshot of leads YOY. The lines are various channels used. Total leads 388 vs 254.
The client is happy.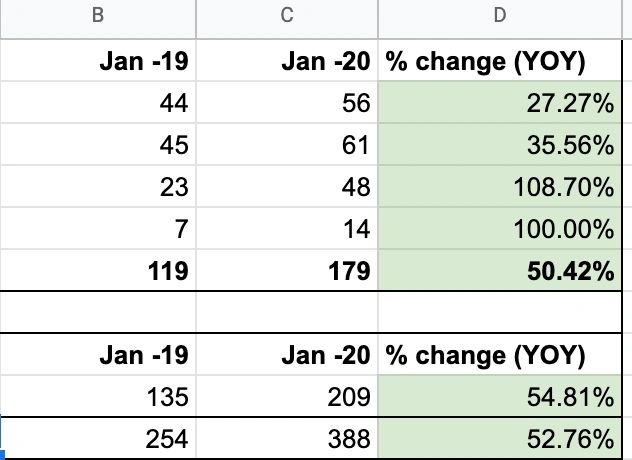 Contact IOI Ventures