My SEO needs work, but where do I start?
SEO (Search Engine Optimization) is the component of marketing that scares business owners the most and often gets overlooked. Having spent more than 20 years working in this space, we've seen partners avoid it altogether and then overspend on paid to compensate for the lack of success in this area. This article should put your mind at ease and improve your SEO game.
Get the right tools: 
Whether you are starting a site from scratch or updating your CMS (e.g., WordPress) make sure to add in SEO tools like Yoast Premium. If you are not willing to invest $89 a year in advanced SEO advice from a top service provider, please stop reading this article.
What makes Yoast Premium great? 
With the Basic Yoast Free version you'll get:
Keyword to page alignment check system and the ability to let Google know what your page is about
A time tracker to ensure that you don't let pages stay untouched for too long, thus making the content stale in Google's eyes.
Readability check, and full control over your breadcrumbs - while they do the legwork for you, keeping you up to date on the Google algorithm as it changes. Want to understand how the Google algorithm works? Read this article by MOZ.
In addition to the above, with the Premium version you'll get:
Internal link suggestions, content insights, re-direct manager, focused keyword export (and scores), plus 24-7 hour support.
There are other SEO plugin tools available, so be sure to check your CMS and find the one with the best and most reviews. Here is an article that lists out the top 14 SEO tools.
Other tools that we use: 
We typically add SEMRUSH for deep research and competitive analysis and then Google Search Console to monitor our site. This trifecta along with a good set of eyes will amp up your SEO game right from the start. Want to get real smart? Read this Google Webmaster Blog on SEO trends.
Why this matters: 
The reason we encourage our clients to focus on SEO is that organic traffic historically drives the best traffic, lead form conversion rates and sales for e-commerce businesses. Overall, organic traffic as a percentage of your site's traffic should be in the 40-60% range. If it isn't, you have an SEO and content problem.
If your established goals in Google Analytics (a form fill out) are not leading the way in terms of conversion rate and numbers, you have an SEO problem. Our friends over at Marketing Sherpa provided research that shows conversion rate by goal and industry, stating on average, organic traffic should convert at 16%.
Clickthrough analysis on Google search: 
Focus on the top 3 spots of a Google search, which account for 61% of click traffic for that specific keyword. If you are not on page one, you're nowhere. If you are on page one, set the goal of a top 5 (ideally, top 3) location.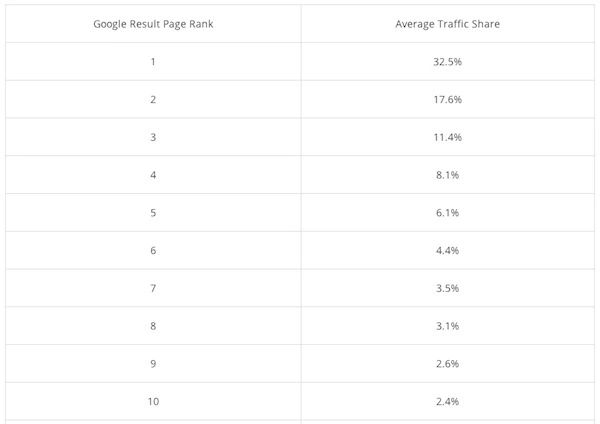 Now that you have knowledge of the tools needed, analyze your site.
Develop your baseline report:
Create a sheet and then label these columns: website page, the focused keywords for that page (provide 3), the URL of that page, and current rank. To get that rank, go Incognito in Chrome and search your keywords. If you want geo-specific data, ask a few friends in those DMA's to do the same thing. With this information, you know have something to build off of.
You can then focus on some content-rich tactics that will improve your quality score and relevance in the eyes of Google.
Here are some other tips on how to optimize your content: 
Have a mobile-first approach when building and delivering your story
The focus of your page should match those keywords that you care about in the top-level structure of the site, e.g., the H1 and first content block.
Frequent use of those keywords throughout the page
Have good length of content, no fluff or text duplication
Image and title tag optimization (Yoast will help here)
Backlinking (tips here) and social engagement matter
As you can see, there is a lot that you can do to improve your SEO game. The tools are endless and the work should be viewed as an ongoing but very much crucial task for your marketing team. Doing SEO right allows your business to save dollars on paid marketing efforts on Google where you are spending upwards of $3.00 per click. The right investment is fixing this component of your business and allowing organic traffic to do its job.
Need that extra set of eyes? We'd be game to help you out! Contact us here.